Rethinking the Politics of Food and Hospitality
It was not the first time that Syrian refugees offered me tea and sweets, but the place they did so this time surprised me. We were seated on camp beds in an abandoned military barrack turned into a make-shift shelter almost overnight, surrounded by barbed wire and green fences. We had been talking about life in the camp when the topic suddenly shifted to the food they were being served: prepared sandwiches twice a day, and a warm meal produced by an industrial catering service that normally provides food to hospitals and retirement homes. My interlocutors found it utterly dreadful: it was unhealthy for children and pregnant women, the time between warm meals was unreasonably long and, judging by its smells and cardboard-like texture, the rice they were served was surely several days old. What frustrated them most of all were the restrictions on taking food or drinks to their rooms: no fruits, no bread, no prepacked cookies, nothing. 'But he's saying it didn't stop them', my informant said when one man tugged at my sleeve and took me to a metal locker in the corner of the room. 'Look: bread! From Syria!' he whispered in my ear, while his mates chuckled in the background. Before I realised what was going on, they took out five long small glasses. No matter how hard I tried, I could no longer escape what was bound to happen: my informant and I were served tea as befitted any guest. Before I was able to decline twice, the toughest guy of the gang pressed a small piece of candy in my hands, wrapped in a pink foil with Barbie's face on top of it. 'Good, good!' he exclaimed, moving his fingertips to his loudly smacking lips.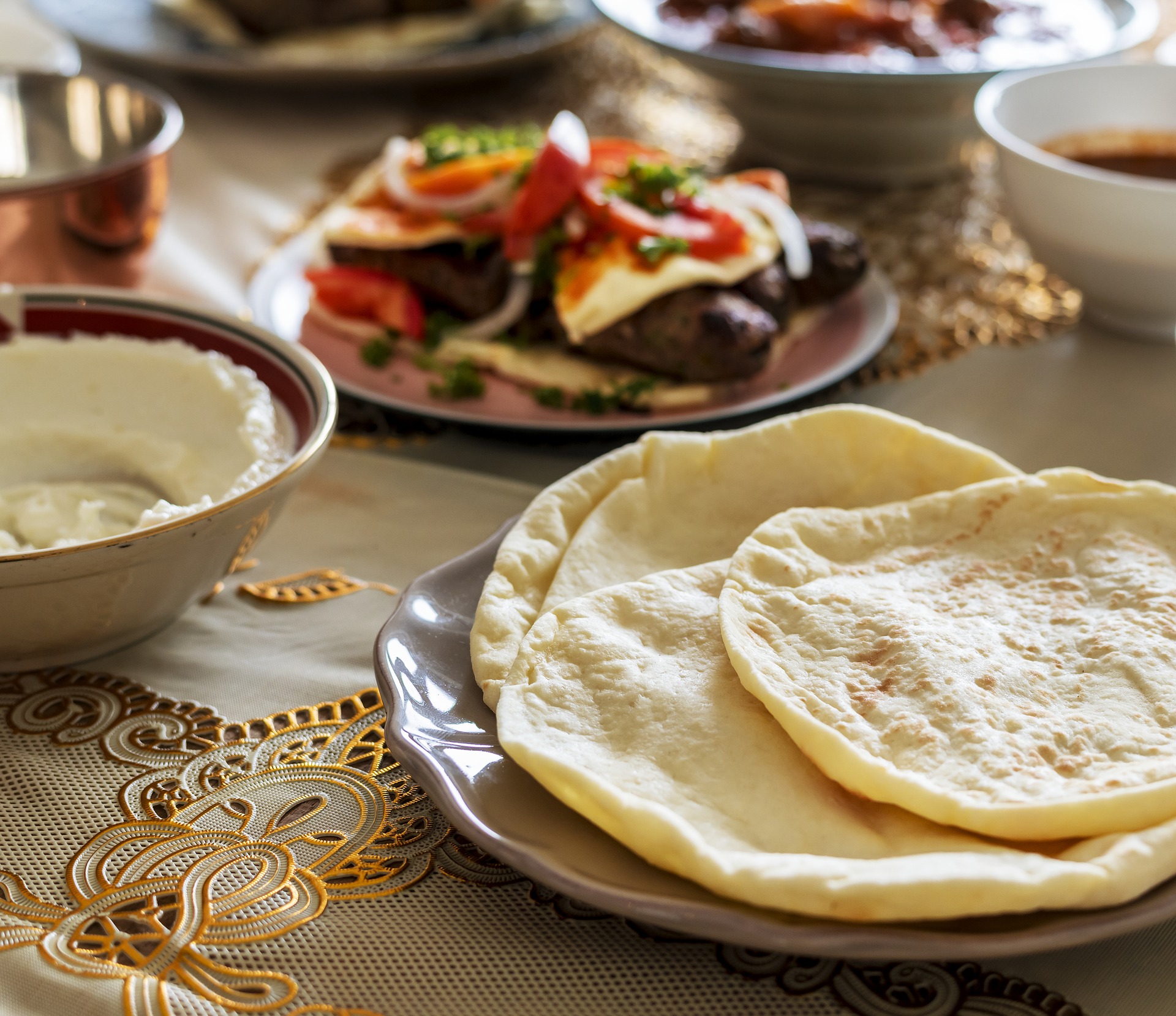 Prior to that moment, I had thought of eating and drinking as a rather trivial aspect of forced migration. Yet, afterwards, as I browsed through my field notes and interview transcripts, I realised that food was a continuous thread in my research with Syrians. Many kept insisting we meet in their homes, where they would serve me Syrian coffee and snacks. And whenever the topic shifted to food, the tone of the conversation shifted, too. Suddenly my informants engaged in passionate talks about typical Syrian dishes and the country's culture of hospitality. Like most academics and activists I encountered, I initially discarded these outbursts of enthusiasm as charming but irrelevant to my research. Instead, I was interested in what I thought really mattered: how Syrians developed social relations and a sense of identity; whether and how they received access to adequate legal information, housing and medical care; and how they dealt with the basic assistance provided to them by NGOs and government agencies.
It was only when I was offered tea and sweets inside this make-shift camp that the central role of food in forced migrants' lives became apparent to me. From then on, I decided to re-direct my research towards exploring what it was that made eating and drinking such a symbolically potent practice in a setting of forced migration.
Drawing partly on the anthropologies of food, hospitality, and the gift, I identified four layers of meaning. First, by offering me tea and sweets, my interlocutors temporarily subverted the power relations that were imposed upon them. Suddenly they were giving food and drinks, rather than receiving them; they were hosting me, a Belgian guest, whom they subjected to their eating and drinking routines. Even in the first interview, for instance, I was naively surprised by the Syrian breakfast that was waiting for me: yoghurt, sliced raw tomato, cucumber, Syrian bread, humus, Zaattar, and a pot of strong Arabic coffee. The same rationale seemed to underlie this eating ritual: from being a guest depending on his hosting state's benevolence, the young man I interviewed transformed himself into a worthy host. Even before I could thank him for receiving me at his place – which he had insisted upon when we agreed to meet – he immediately introduced himself through a discourse that refuted his inferior status of aid-recipient: "I am strong one, I am here, okay, I am professional, I have my experience. You have mind I have mind, you have eyes I have eyes okay. We are the same, you are feeling I am feeling. You are professional in your job and your study and I have professional on my own. So, we have to respect each other, I don't have to beg you, if you are even a god, I don't beg you, I don't need anything from you, because I know myself."
Second, irrespective of the power dynamics involved in host-guest relationships, acting as hosts was also crucial to restore a sense of normality in refugees' lives and identities. When I asked one man, for instance, what he missed most about Syria, he explained at length how he had turned part of his house into a guest room where friends and family could stay whenever they wanted. Similarly, to many of my interlocutors, being 'at home with oneself' requires the ability to receive guests. By doing so they created 'intimate bubbles of homeliness' amidst the hostile environment of the camp.
Third, by smuggling food and drinks into their rooms, my interlocutors tried to re-establish their autonomy vis-à-vis the totalitarian (food) regime of the camp. In this sense they enacted a positive power when they decided what to eat, with whom and when, irrespective of the powerful actors governing the camp. For many of my interlocutors, what was at stake was precisely the freedom to prepare and store food for themselves. One woman explained to me: "We feel forced to break the rules. We are not getting proper food but we are not allowed to cook for ourselves. It's as if they want us to lie to them." In this sense, the apparently trivial act of smuggling in food thus represented a small but meaningful act of resistance through which they reclaimed their agency.
And fourth, eating and drinking was closely tied up with a sense of home and emplacement. The humanitarian food regime imposes a seemingly neutral conception of food as 'nutrition', robbed of cultural or political meanings. Yet the Syrians I talked to were particularly proud of their national or regional culinary traditions, irrespective of their ethnicity, political beliefs or age. As soon as the conversation shifted to food – which it always did sooner or later – their eyes caught fire, and they would overwhelm me with descriptions of koublah, kebab with wam cherries or makloubeh. And of course, whenever I was offered a small or bigger snack, they anxiously emphasized that it was something typically Syrian, from Aleppo, or from the mountains near Saraqeb. By taking pride in the exceptional refinement of the Syrian cuisine, they seemed determined to demonstrate that they were anything but an anonymous mass of helpless refugees. Instead they were carriers of a culture that was, when it came to food at least, superior to that of its Northern host society.
The significance of Syrian scents and flavours also extended beyond its refined cuisine. The sensory experience of gathering around a cup of tea in the afternoon, or preparing a Syrian dish also triggered powerful memories of home. At one point, I was chatting outside with some young Syrian volunteers, when one of my informants took a pack of Syrian cigarettes from his jacket. Suddenly, three of the young men around me started shouting and laughing ecstatically. While lighting each other's cigarettes, they confided that 'they taste awful, actually. You know, they taste like earth'. The quality of the taste was not that relevant however: 'It really tastes like Syria, this'. After that, my informant handed out peppermint chewing gum to everyone, presumably to soften the taste at least a little bit.
These four layers of meaning suggest that eating and drinking can be highly significant sites of power, identity and everyday social life. By putting these meanings into practice, my Syrian interlocutors created moments of homeliness that were often subversive to the hostile environment in which they found themselves. By focusing on seemingly trivial acts of hospitality and eating, researchers can explore a whole set of social, cultural and political meanings that are central to migrants' everyday experiences. The same is true for humanitarian practitioners, social workers, and activists: more humane ways of supporting refugees can be fostered by increasing attention to what matters most to refugees themselves.
References
Robin Vandevoordt, 2017, The politics of food and hospitality, Journal of Refugee Studies 2017 30(4), p606.
Jacques Derrida, 2000, Of Hospitality. Stanford University Press.
Laura Hammond 2004, This place will become home: refugee repatriation to Ethiopia. London: Cornell University Press.
Tom Scott-Smith, 2014, Control and biopower in contemporary humanitarian aid. The case of supplementary feeding. Journal of Refugee Studies, 28(1): 21-37.