Refugee-led Responses to COVID-19: A case study from Uganda
Rethinking Refuge generally publishes research-based articles, yet there is particular value in presenting case studies of responses to COVID-19 in the rapidly evolving context of the pandemic. This article offers lessons for refugee-led and community-based organizations to implement effective awareness-raising campaigns, and makes clear, immediately actionable recommendations for governments, international organizations, and donors to improve their support to such organizations at the front line of the crisis.
Community Empowerment for creative innovation (CECI) is a registered, youth-founded, refugee-led nonprofit community-based organization, in Koboko District, Uganda. It was founded in May 2017 by a group of visionary South Sudanese youth who were granted asylum or refuge in Uganda when they fled the war in their native country – South Sudan. Koboko hosts 23,128 self-settled refugees, of which 88.8 per cent are of South Sudanese origin.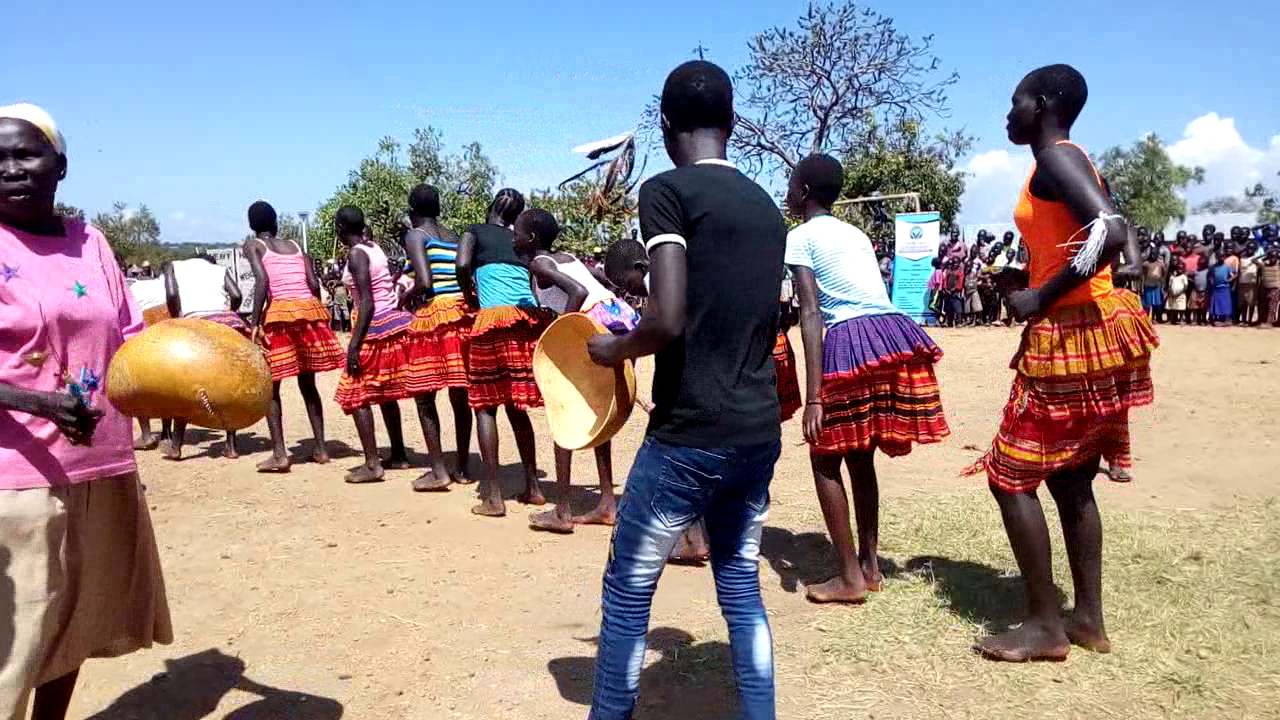 Larakaraka dance by Acholi tribe at a Cultural Gala on 'Appreciating Diversity Through Culture', organized by CECI in 2019
Despite the huge needs created by the outbreak of COVID-19, there is a lack of assistance to refugees to address the pandemic. CECI has therefore become one of the first responders to address the increasing vulnerability of refugees due to lockdown measures, and in so doing, it serves as one example of the importance of refugee-led organizations in mobilizing support in desperate circumstances.
CECI's work: Empowering refugee youth
CECI works to: (1) address the deteriorating relationships both among refugees themselves and with host communities, characterized by ethnic divisions and violent conflicts; (2) address the dire prospects for young people, characterized by antisocial behaviour and practices; and (3) respond to the need for resilience activities that increase livelihood prospects through the promotion of peace and reconciliation, combatting ethnic divisions, hate speech, gender-based violence; and (4) train youth in conflict management and resolution, trauma healing, and entrepreneurial and vocational skills to encourage self-reliance and support peace and development at the grassroots level.
CECI envision an empowered, peaceful, and self-reliant community of youth who, in creative and innovative ways, contribute meaningfully to the socio-economic development and achievement of sustainable peace in the indigenous communities in which they live.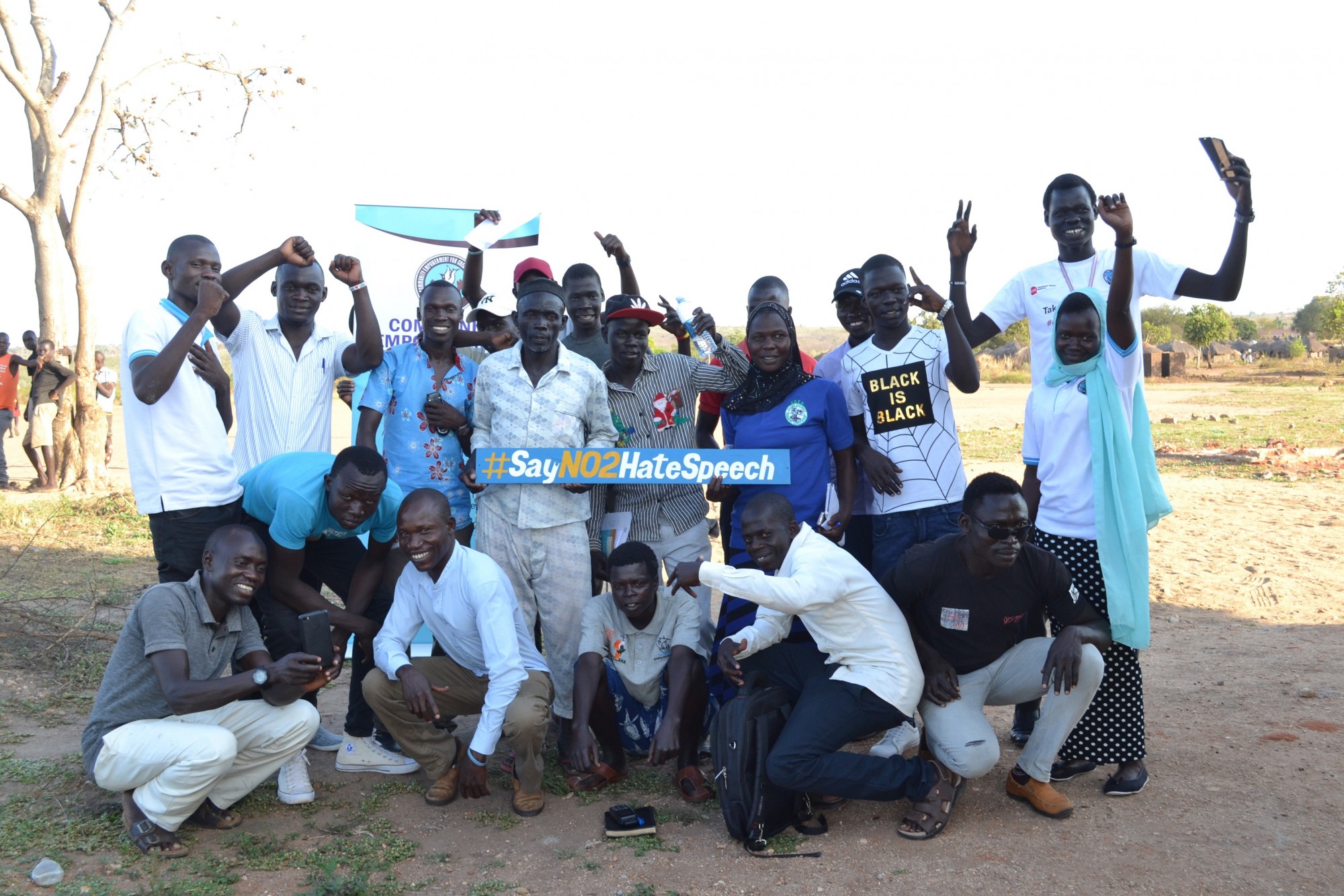 Participants of a 'hate speech mitigation and social media fact-checking' training organized by CECI in Bidi Bidi Refugee Settlement
Responding to COVID-19
CECI is raising local community awareness about COVID-19 prevention and safety guidelines among refugee communities, through both online and offline channels. CECI has translated information, education, and communication (IEC) materials into languages which are commonly spoken by refugees, including Bari and Arabic; printed, distributed, and displayed on walls, market entrances and exit points, hospitals, clinics, and water-points over 800 COVID-19 Prevention Posters in local languages; and created and shared awareness-raising videos on Facebook, Twitter, and YouTube to improve refugee access to reliable, lifesaving information about the disease, and expose the plight of refugees (especially that of urban refugee women and girls) during the pandemic.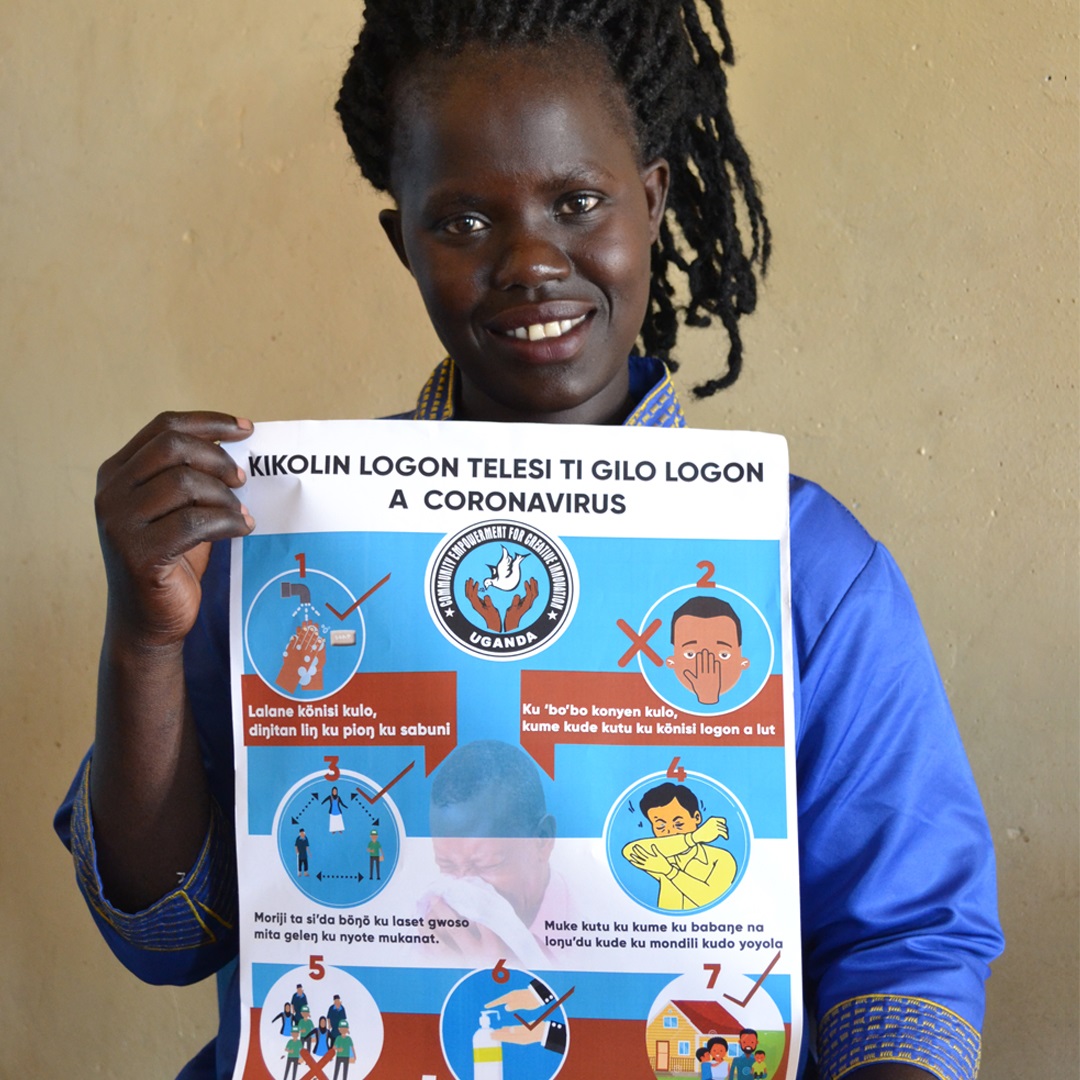 Esther holding a COVID-19 Prevention Poster translated into Bari, a language commonly spoken by refugees
In May 2020, CECI started a fundraising campaign to solicit resources and provide essential food supplies to 150 refugee families that have been most affected by the Coronavirus pandemic to help them cope during the difficult period of lockdown. The travel bans imposed as part of lockdown measures prevent urban refugees from travelling to collect food rations from refugee camps, leaving them extremely vulnerable.
In Koboko District and Bidi Bidi Refugee Settlement in Uganda, where CECI principally operates, refugees (especially urban refugees) struggle with the plethora of challenges they face. These include the risks posed by the lack of access to timely and reliable information about COVID-19, as well as malnutrition and the threat of starvation, caused both by reduced food rations and the COVID-19 travel ban that prevents them from collecting food in refugee camps, and restricts travel out of camps to get food in market centres.
Conversations the CECI team held with refugees show that urban refugees, especially women, some of whose family heads are distant from them in the country, are really finding it hard to feed their families since they do not have any farmlands from which to grow food at this time. Furthermore, the menstrual health of refugee girls and women has been affected, as they are finding difficulty accessing necessities such as soap and sanitary towels, since shops selling non-food items have been closed under lockdown measures. Edita Rita, a single mother and urban refugee living in Koboko, told us:
"I walked over 30 kms on foot to collect my food ratio from Swinga in Bidi Bidi Refugee settlement, with no water to drink on the way. On my way, I met some members of the host that asked me for money so they can carry me to the camp on Boda Boda, and when I refused because I had no money, they insulted me and called me names. On my way back home with one elderly woman, we were stoned, beaten, and our food grabbed, causing the elderly woman to collapse. (….) Now I'm bitter and stressed about how I am going to feed my three boys and two girls."
Recommendations to governments, international organizations, and donors
CECI is concerned with the already dire refugee situation in Uganda, which is getting worse day by day owing to the COVID-19 pandemic lockdown measures, and makes the following recommendations to the Government of Uganda, international organizations, and donors supporting refugees in the region.
Government of Uganda: Consider the situation of refugees in the development and implementation of Coronavirus prevention measures. This means revising the current measures, including by providing essential supplies to vulnerable people, especially refugees, who are the most vulnerable of communities.
Partners and Office of the Prime Minister (OPM): Consult with and involve refugee community leaders such as the Refugee Welfare Council (RWC) leadership structure in devising better methods of food distribution, lift restrictions that permit food provisions only to be received by the family head, and allow relatives to receive food rations for those in the urban centres.
Donors or funders working to support refugees: Make small pots of money accessible to communities and refugee-led organizations in quick and flexible ways, and simplify application forms and processes so local community efforts that are urgent and on the front line can access funds in an easier and more efficient way.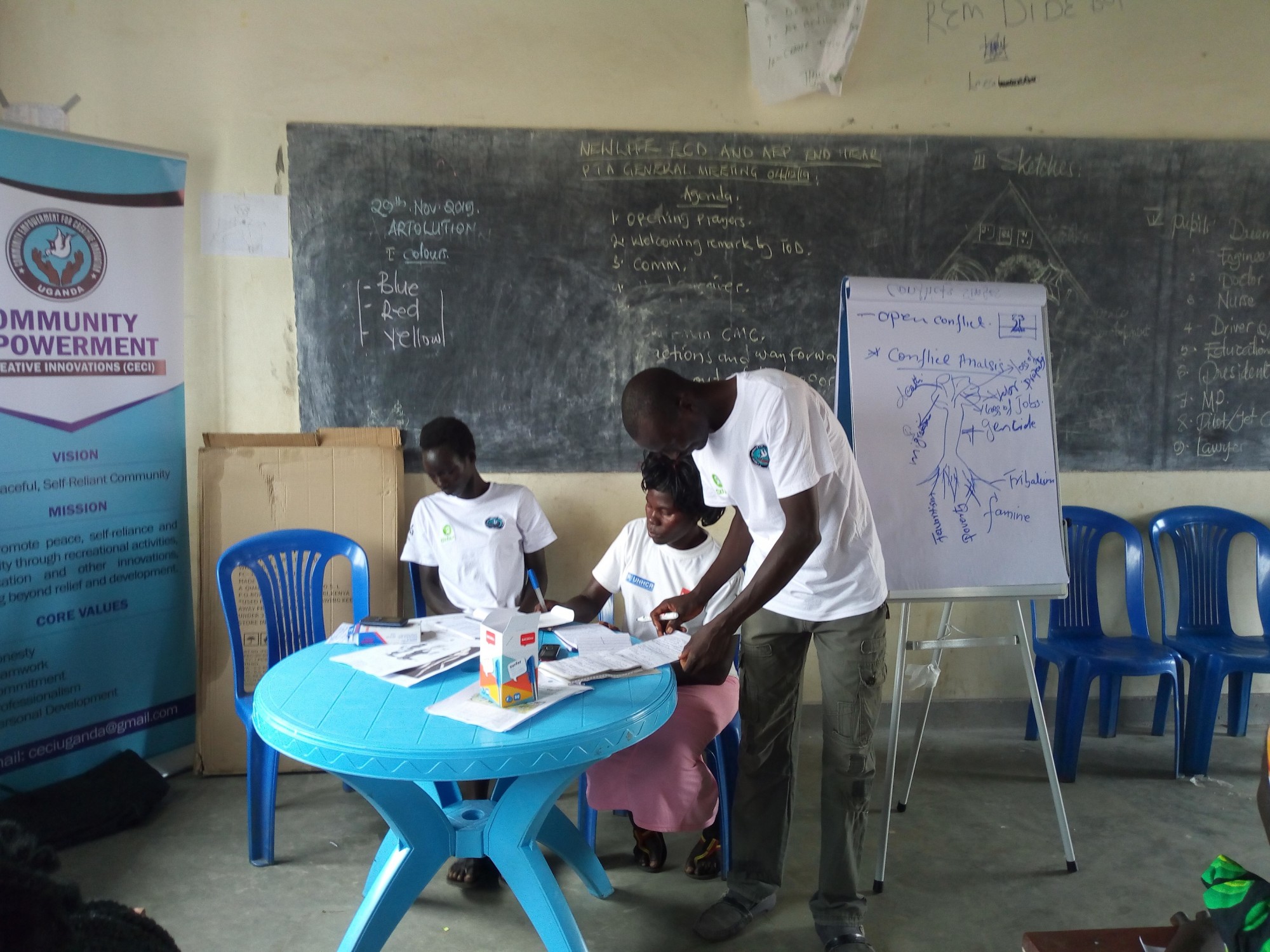 A CECI classroom in action
Conclusion
The Community Empowerment for Creative Innovation (CECI) team strongly believes this is not the time to turn our backs on people living in less fortunate situations, but rather a time to show refugees we care, and to stand in solidarity with refugees, IDPs, and other displaced persons in need around the world during this time of widespread uncertainty, fear, and panic.
If you are interested in supporting CECI's fundraising campaign for refugee families suffering from the effects of lockdown due to COVID-19, please consider donating here.