Rethinking Energy Economies for Refugees
Energy in refugee camps
Energy for refugees is often viewed as a niche sector, with many in the humanitarian community understanding energy use to be only the distribution of solar lanterns or household cookstoves in refugee camps. However, the reality in most refugee settings is that energy plays a huge part in the everyday lives of displaced communities.
Energy products and technologies in households include fuels and firewood for cooking, and most people have a phone or access to a phone, torches, mobile chargers, light bulbs, radios, fans, or clocks. Many camps also have solar street lighting or some form of space lighting and electricity for schools, clinics, play spaces, and community facilities.
Energy is also essential for small businesses and enterprises and underpins the economy of refugee camps. Within refugee markets there are businesses selling solar lanterns, torches, and solar home systems for households and shelters. In short, rethinking the economic lives of refugees requires understanding the energy uses and needs of enterprises in refugee camps.
My ongoing research focuses on energy access in refugee camps in Kenya and Rwanda. Emerging results suggest it is important to rethink how energy is understood within debates on refugee economics and sustainable livelihoods. I have found that the energy needs of refugee businesses are currently under-researched and under-resourced in humanitarian settings. I use the term 'energy for refugee enterprises' to encapsulate energy supply and use across end-users, including energy for livelihoods and jobs, small businesses and productive enterprises, and energy to support the functioning of markets and shops within refugee camps and host communities. Rethinking energy for refugee enterprises will require inclusion of these forms of energy in both research and humanitarian response.
Diverse energy economies
There is a diverse energy economy within camps with many enterprises selling electrical products and services as well as developing training on electrical installation and maintenance. The Kakuma refugee camp in Kenya has in particular a large system of informal trading and is a vibrant marketplace. It is home to nearly 160,000 people, and hosts a multi-income community who have been economically dynamic since its creation in 1992. Many of these traders and business owners rely inherently on energy to be able to run their businesses. For example, energy is essential to power businesses such as sewing shops, milk bars and cafes, and mobile phone charging shops.
Energy is used in almost all business spaces, whether for powering lights so that tailors can have light to sew by, for fridges to keep milk and cold drinks cool, for cook stoves and fuel for restaurants, or for electricity to charge phones. The situation in camps in Rwanda is somewhat different, and many markets are at a nascent stage with a small number of shops often centred along a central high street as the photo below of Nyabiheke camp shows.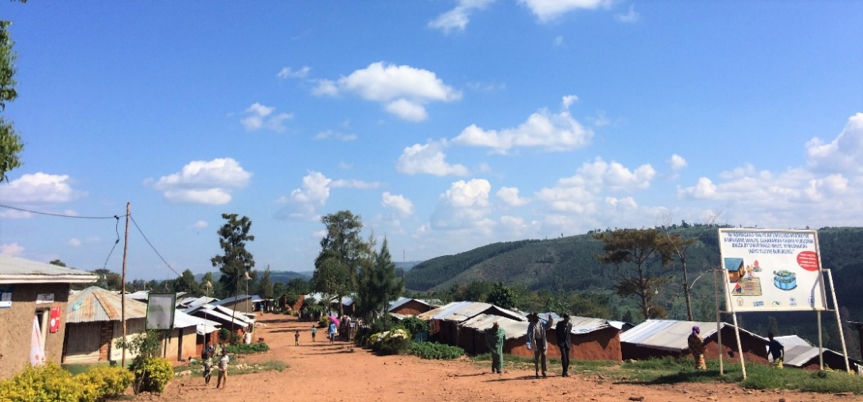 Picture: High street of shops in Nyabiheke in Rwanda, with electrical wires connecting enterprises on the left.
Within homes energy sources are much more varied, with many people using a mix of solar products and car batteries as well as using more traditional methods such as burning sticks for light. There are also lively charcoal markets, exchange networks for firewood and fuel, and battery charging businesses in and around the Rwandan camps, as the photo below shows. As well as energy in homes and businesses, energy is also needed for humanitarian actors working in refugee camps. Traditionally operations have been powered by diesel generators, and institutional users such as UNHCR and NGOs consume considerable amounts of energy compared to refugee households.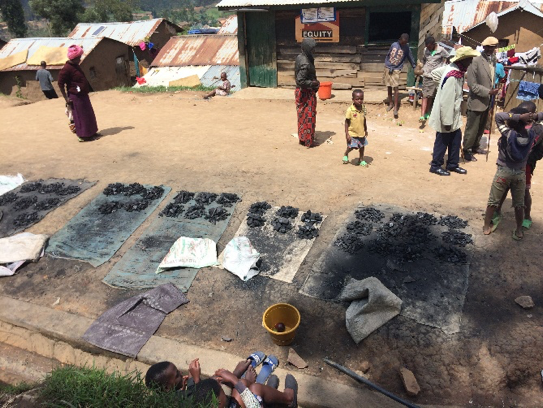 Picture: Charcoal market and refugee entrepreneurs in Kigeme in Rwanda.
The importance of energy for businesses – and the range of technologies, shops, and energy sources to do this – is very visible within camps, with many people having developed micro-enterprises selling electricity by asking customers to pay for mobile phone charging. The pictures below provide an example of the types of technologies and shops within the camps and shows solar panels being sold in one of the shops Kakuma in Kenya.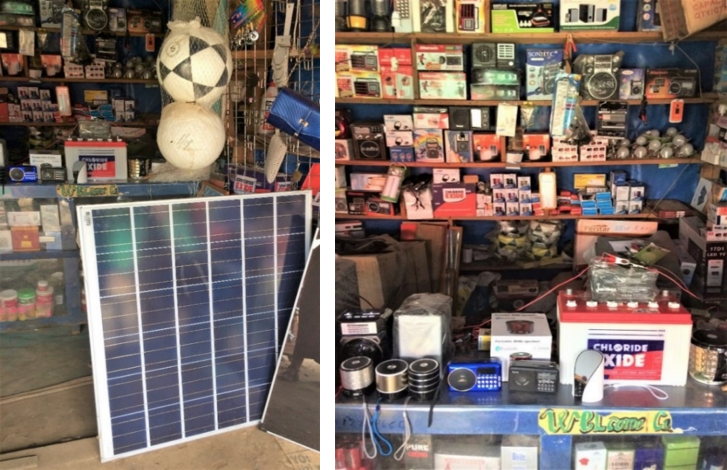 Picture: Solar panels for sale in Kakuma refugee camp, Kenya: panels alongside electrical products such as computers, torches, speakers, TVs and radios.
Challenges for humanitarian actors
Despite the wide range of energy activities, current financial support from humanitarian agencies and NGOs on energy for enterprises is very limited. Ownership of energy businesses within camps is largely by refugees themselves and forms part of a complex network of economic trades and exchanges. For example, in the course of a single interaction on energy, several people, payment methods, businesses, locations and sources of energy may be involved. Most of these energy exchanges are taking place independently of direct humanitarian aid processes, and all are part of the informal economy of refugee camps: creating jobs, value, cash, and exchanges within refugee homes and businesses.
My research finds that the energy economies of enterprises in Kenyan and Rwandan refugee camps are largely acting independently of the international aid system. In many camps there are a considerable number of businesses and a definite air of innovation and entrepreneurship. However, many refugees and businesses face considerable hardship and a great number of challenges.
Critically, more research needs to be developed for decision-makers and UN agencies as to date there has been little evidence available to inform the decisions of practitioners. While refugee economics research has focused on innovative livelihoods and markets in refugee camps, little academic research has yet been conducted on the entrepreneurial independence of energy businesses in these settings.
The majority of capital and assets (solar panels, wires, generators, mobile phones, appliances, and income produced by businesses) within these energy economies are owned, operated, and repaired by refugees themselves. Given this, new primary research on the energy economics of refugee camps could be conducted to understand the role this independence and access to energy plays within refugee communities.
Recommendations for academics and practitioners
Acknowledging these challenges and developing the links between practitioner and academic communities may be one way to support refugee communities in accessing the power and energy resources they need to become more self-reliant. One UN initiative developed to support such collaboration is the Global Plan of Action for Sustainable Energy Solutions in Settings of Displacement (GPA), which has a specific working group on developing data and evidence for humanitarian energy. Dedicated efforts to support energy for refugee enterprises can work through the GPA to deliver real change, however, considerably more resourcing will be needed to fully reconsider the role energy plays in refugee economics.
Undertaking detailed assessments by humanitarian agencies before project implementation is also critical to ensure long-term success, especially as many refugees have already found ways to access energy. New programmes should seek to align with existing independent solutions and host government policies to avoid negative disruption and unintended consequences.
Engagement with communities should be widespread and continuous, and not just take place at the start of assessments or projects. This would offer opportunities to fully engage communities and build sustainable results that will support refugees over the long-term. New knowledge and design tools are now available to support practitioners in developing inclusive sustainable and renewable solutions in refugee camps.
While new guides and resources are useful in supporting practitioners in delivering sustainable energy for refugee communities, more dedicated projects and humanitarian support mechanisms are required to meaningfully rethink and support the energy economies of refugee camps.