How New Tools are Meeting the Challenge of Measuring Refugee Self-Reliance
This piece was drawn from an article by the authors in a new Special Issue on Rethinking Refugee Self-Reliance in the Journal of Refugee Studies (Volume 33, Issue 1, March 2020).
The United Nations' Global Compact on Refugees (GCR) was adopted in December 2018 by 181 nations and represents the first major global refugee framework since the ratification of the 1951 UNHCR Refugee Convention and its 1967 Protocol. The GCR recognizes that refugee situations are increasingly protracted, with 80% lasting over ten years, and that the vast majority (84%) of refugees are displaced to developing countries. One of the four key objectives of the GCR is to 'enhance refugee self-reliance'.
Yet, how do we know if a refugee household is self-reliant if this isn't measured? Although self-reliance is promoted as a critical assistance strategy for refugees, there have been limited attempts to rigorously measure the concept. The refugee-serving humanitarian and development community lacks the tools to ensure that programmes and services are assisting refugees to achieve this outcome. In this article, we put forward a tool for measuring refugees' self-reliance, share the results from the pilot, and explain how using such a measurement can build evidence for effective self-reliance programming.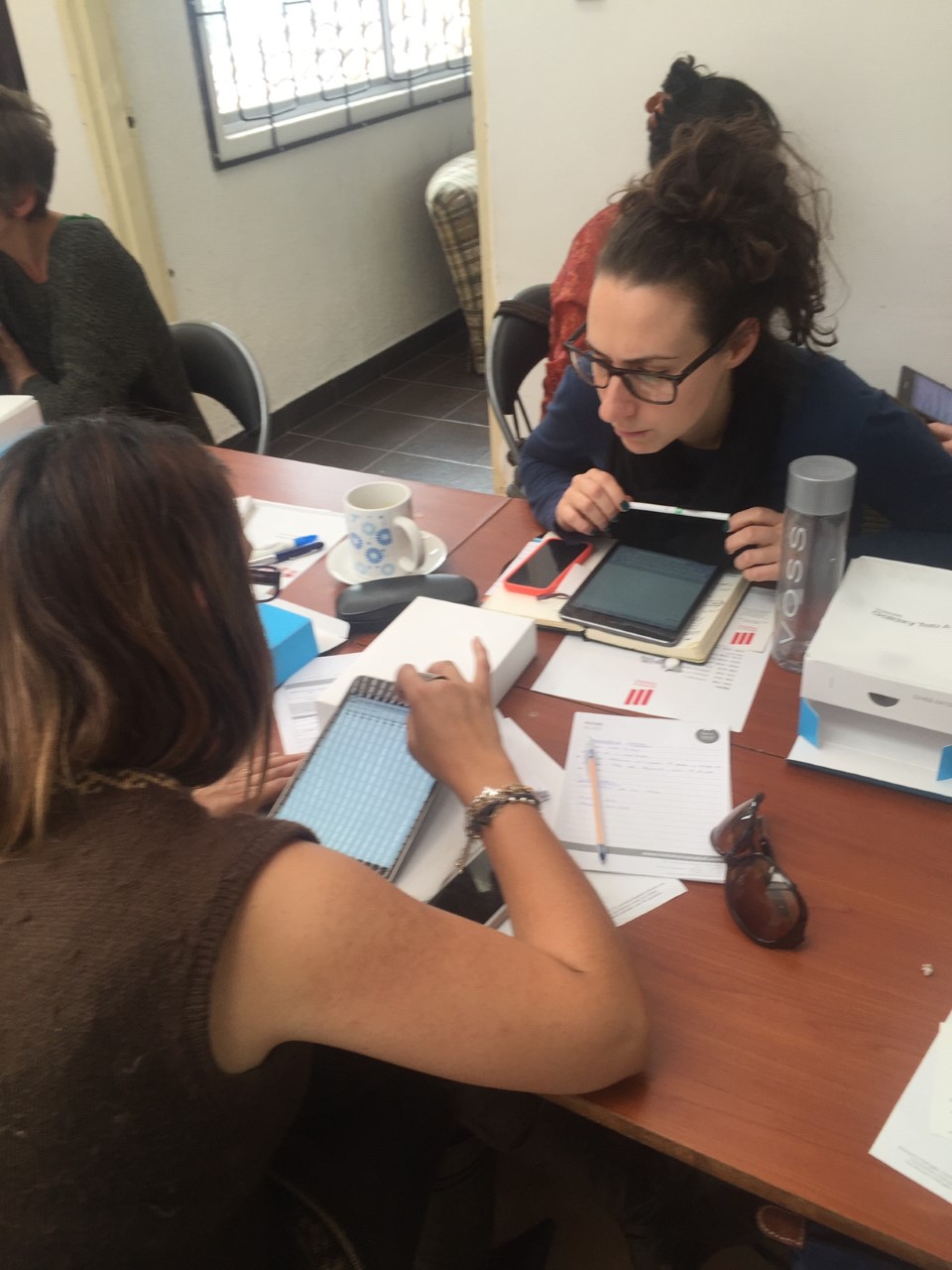 Staff with Asylum Access and HIAS in Ecuador practise use of the Well-Being and Adjustment Index
In 2014, as interest in self-reliance was gaining traction, the Women's Refugee Commission (WRC) began developing a tool to fill the evidence gap in how to measure refugee households' journey toward self-reliance over time. To create a shared understanding of the concept, WRC adopted the definition of self-reliance set out in the UNHCR Handbook for Self-reliance: 'the social and economic ability of an individual, a household or a community to meet essential needs (including protection, food, water, shelter, personal safety, health and education) in a sustainable manner and with dignity'. Following a review of the grey literature, WRC worked with experts, practitioners and refugees to develop a self-reliance tool called the Well Being and Adjustment Index (WBI) to measure self-reliance across contexts.
12 Indicators of Self-Reliance
The WBI identified 12 indicators – income, employment, shelter, utilities, food, healthcare, transportation/mobility, education, community involvement, safety, documentation/residency-status, and well-being – that when measured and compiled provide a composite score to indicate to what extent refugee households are achieving self-reliance. The holistic tool focused on measuring a household's ability to meet its basic needs over time without assistance.
The WBI was developed and tested in Lebanon by national organizations[1] working with Syrian refugees and Lebanese populations. In the second year, testing was expanded to include partners in Egypt[2] and Ecuador[3] with a more diverse population of refugees, primarily focused on, respectively, Sudanese and South Sudanese populations and Colombians. The staff in all three locations were trained on the use of the tool and then implemented the WBI when taking in new clients to their programmes. The WBI was then administered with the clients six months after initial intake to measure progress against the 12 indicators.
Pilot Findings
The results provide important insights in measuring self-reliance using these simple holistic indicators. Findings from the pilot indicate that a majority of refugee households in Ecuador and Egypt increased their composite score for self-reliance, while less than 30% of households regressed in both countries. In Egypt, for example, in income, 29.4% households reported that they moved up in the self-reliance scale between baseline and endline. Only 6% households reported that they moved down in the income scale. Among 11 indicators, the upward movement was the highest in employment (35.4%), which was followed by residency status (34.8%), food (30%), income (29.4%) and community involvement (28.2%). The least proportion of households that reported increment in scale was education (14.1%), which was followed by wellbeing (18%).
The tool facilitated programme staff in prioritizing unmet needs, in strengthening referrals for needed services, and enhanced their focus on working with households on their self-reliance strategies. Feedback from staff garnered through a short survey indicated that a holistic tool, even when only providing single-sector interventions, such as child protection or food support allowed for an improved understanding of client needs to better target interventions. Over 50% of respondents noted that the survey helped them to prioritize their work.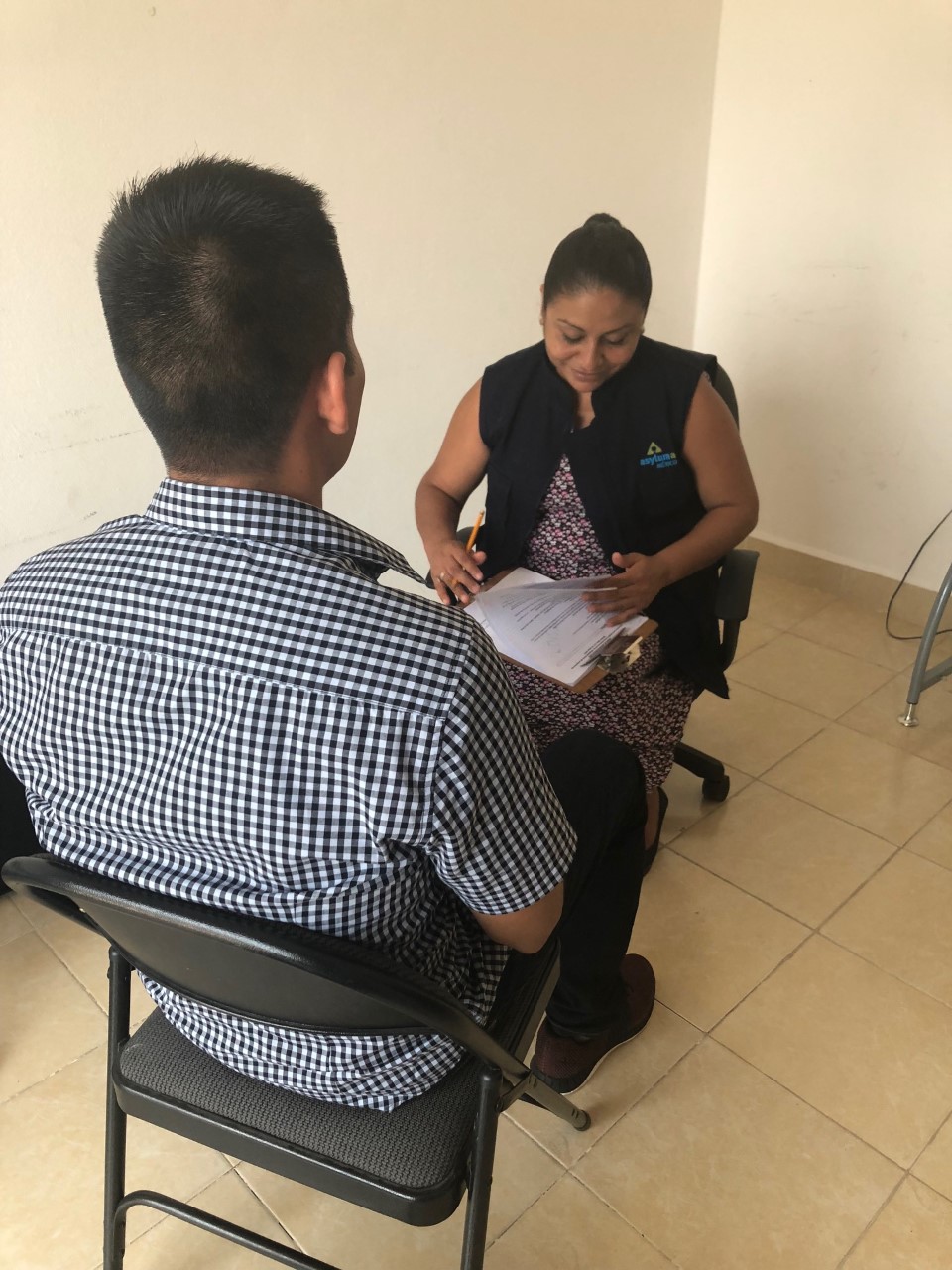 Asylum Access Mexico staff practising use of the Self-Reliance Index
The Refugee Self-Reliance Initiative (RSRI)
Since the adoption of the GCR, self-reliance is receiving much-needed attention, which has animated interest in measuring whether refugees can achieve it and how programmes and policy can support this effort. Building on learning outcomes of the initial WBI pilot, WRC in collaboration with RefugePoint has brought together a global community of practice, now known as the Refugee Self-Reliance Initiative (RSRI), to collectively address the question of how to measure refugee self-reliance.
The RSRI is a multi-stakeholder collaboration that works to enable refugees who seek self-reliance to transition more quickly from emergency aid to greater socio-economic inclusion. By learning from the Well-Being and Adjustment Index, along with other resilience, integration and development tools, the community of practice collaboratively developed the Self-Reliance Index (SRI). The SRI is now being tested by Asylum Access in Mexico, the Danish Refugee Council in Jordan, HIAS in Ecuador and RefugePoint in Kenya. There is widespread interest in testing and implementing the soon to be released SRI 2.0 in a variety of contexts around the world.
Conclusion
The Global Compact on Refugees has provided the refugee community the imperative to better understand self-reliance and build an evidence case for how to support refugees to achieve it. The RSRI's response to this challenge has been to create a global learning and convening space for building and sharing this evidence, for which the SRI is just the start. A robust Community of Practice has been established with NGO, UNHCR, academic and donor participants. The focus lies in building the evidence about what works where and with whom, as well as creating an advocacy strategy targeting donors to fund self-reliance programmes and host states to create an enabling environment for refugees to exercise their rights.