Smuggling Prohibitions vs. Duties of Humanity
Refugees have few legal routes to seek asylum, in particular in Europe and other countries in the Global North. This absence of legal travel routes (due in large measure to the combined effects of visa and carrier sanctions policies) generates a huge demand for the services of smugglers, and in turn 'illegalises' refugee flight. Seeking refuge through other means is known as 'irregular migration'.
The criminalisation of human smuggling has become central to contemporary measures to combat 'irregular migration'. In this context there is an urgent need need for policymakers to rethink the current definition of smuggling as well as its implications. We have witnessed in recent years an expansion of the very concept of smuggling. In implementing the Smuggling Protocol, for example, most states have removed the 'gain' criterion (meaning smuggling is no longer defined in part as achieving personal gain), and now criminalise any assistance to those crossing borders or residing in territories irregularly. This affects many people, including humanitarian workers, civilian volunteers, and even boat captains who rescue migrants in distress at sea in fulfillment of their obligations under International Maritime Law.
We argue that the expansion of the concept of smuggling is legally, ethically, and practically dubious, as are the range of tools used to suppress it. It has led to counterproductive consquences, even leading scholars and practioners to question whether the policy and legal framework for anti-smuggling, as it is defined, for example, in the EU-wide Facilitators' Package, is 'fit for purpose'.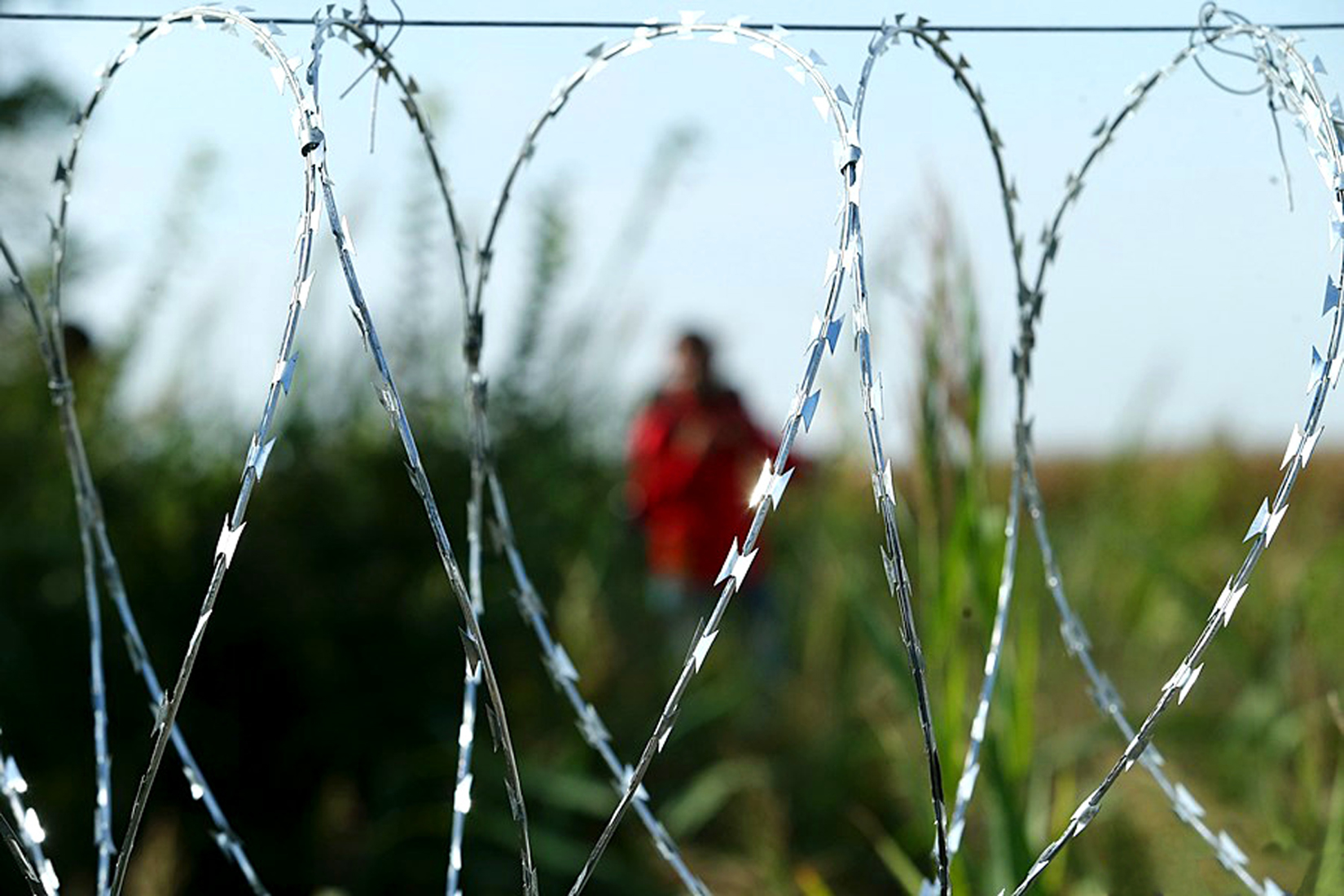 Migrant behind barbed wire in Hungary, 2015. Credit: Gémes Sándor/SzomSzed (CC BY-SA 3.0)
Human 'smuggling' as an apparatus of migration control
The (ostensible) wrong of human smuggling became the focus of international legal cooperation with the conclusion of the 2000 Palermo Protocol on Smuggling. The Protocol defines smuggling as assistance for gain in illegal border crossings. The Protocol is appended to the UN Convention Against Transnational Organised Crime, but smuggling prohibitions are not confined to actors that would be commonly regarded as 'organised transnational criminals'.
Smuggling prohibitions are often conflated, in both political and popular discourse, with trafficking, which is defined as the coercive transport or harbouring of individuals for exploitative purposes. The Trafficking Protocol is not without interpretative controversy, but prohibiting the sort of coercive, exploitative conduct that is defined as trafficking seems at least prima facie appropriate.
In contrast, smuggling prohibitions, as we find them in many national laws, prohibit a range of assistance to those in need. In particular they affect those seeking asylum in the Global North, who tend to be of nationalities effectively excluded from legal routes to Northern states. In this context, the law's 'criminal smuggler' may well be a good Samaritan – someone with benign aims, offering a drink to those walking in the heat, or even someone effecting a rescue of those in serious and urgent need.
Targeting the 'helpers'
According to the EU's Facilitation Directive, states must prohibit assistance in irregular border crossing. While they may exempt some humanitarian actions from that prohibition, a recent study for the European Parliament found that most have not. In addition, the Directive marks an expansion of the reach of criminal law, as it also legally prohibits assistance provided to those staying irregularly, not just assistance provided to people entering states.
Against this background, recent scholarship and jurisprudence has come to critique and challenge the overbreadth of smuggling prohibitions, arguing that the lack of clear limits to the legislation leads to a lack of legal clarity which runs against the rule of law.
In her RSC Working Paper and Brief, RSC MSc alumna Rachel Landry argued that smuggling prohibitions were overbroad, and criminalised not only harmless acts, but also actions that should be regarded as morally compelled. Meanwhile, the first co-author of this piece, Jennifer Allsopp, has worked with other scholars to catalogue the extensive and profound impact of anti-smuggling measures on civil society. Their book, Policing Humanitarianism: EU Policies Against Human Smuggling and their Impact on Civil Society, explores the effects of EU policies, laws and agencies' operations in anti-migrant smuggling actions, and their implementation across EU Member States.
In its empirical evidence, the book draws on detailed case studies of four EU Member States: Greece, Italy, Hungary and the UK. The effects of EU and national policies criminalising the facilitation of entry and residence of irregular immigrants, the book concludes, extend beyond cases where civil society actors have faced actual prosecutions and criminal convictions when assisting irregular immigrants and asylum seekers. The authors refer to this dynamic as 'policing the mobility society', which has three faces: (i) intimidation and suspicion; (ii) disciplining, and; (iii) formal criminalisation.
Reasserting humanity?
Together, we are engaged in an analysis that explores two cases where national constitutional provisions were invoked successfully to challenge the overbreadth of smuggling prohibitions. Both cases concern people who were criminally prosecuted for helping people seek refuge.
The first case is the 2015 Appulonappa case before the Supreme Court of Canada. This case concerned the apprehension of MV Ocean lady on 17 October 2009 off the coast of Vancouver Island in British Columbia. The boat was carrying 76 Sri Lankan Tamils seeking asylum who had boarded the ship in Southeast Asia. The four appellants in the case were accused of involvement in a transnational for-profit smuggling operation. Charged under s. 117(1) of the Immigration and Refugee Protection Act (IRPA) which concerns the transnational offence of 'organizing, inducing, aiding or abetting' the entry into Canada of persons without valid documentation in contravention of the Act (Para 3), they risked a lengthy sentence of (potentially life) imprisonment, a substantial fine, or both and/or disqualification from being considered for refugee status. The appellants' counsel successfully contended that s. 117 of the IRPA was unconstitutionally overbroad, leading as it may to the conviction of humanitarian operators or family members assisting asylum seekers with good intent. In July 2017, the accused were found to have acted in a manner consistent with the principle of mutual aid between refugees, and were therefore not guilty of human smuggling under s. 117 of the IRPA.
The second case came before the French Conseil Constitutionel in July 2018 and concerns Cedric Herrou. Herrou, a French farmer and activist, successfully invoked the French constitutional principle of Fraternité to challenge the criminalisation of assistance to irregular migrants. While the Conseil acknowledged that the state is entitled to take measures to suppress irregular migration, the state was obliged to balance those measures against the freedom to act in solidarity with irregular migrants and refugees in particular.
Our forthcoming legal analysis compares and contrasts the two rulings, including their roots in distinctive political campaigns. We suggest that the approach adapted by the Canadian and French courts should inform developments in human rights law, which so far have failed to protect humanitarian acts from legal prohibition. An important case has just been lodged before the European Court of Human Rights challenging the criminalisation of Salam Aldeen for his work with Team Humanity in sea rescues off the coast of Greece (for more information see further resources below).
Conclusion
Allowing people to help those seeking refuge is a limited response to the structures of refugee containment. But it is an important one nonetheless, in particular as it reveals that the official rhetoric concerning 'combatting' irregular migration and human smuggling obscures refugee protection, and indeed a global inequality of migration and mobility opportunities.
Further resources on the European Court of Human Rights challenging the criminalisation of Salam Aldeen for his work with Team Humanity:
In La Repubblica (Italy): https://www.repubblica.it/esteri/2019/04/18/news/ong_attacca_la_grecia_sui_migranti_impedi_e_penalizzo_il_soccorso_dei_migranti_-224328918/
In Libero.it (Italy): http://247.libero.it/focus/47257171/1/ong-attacca-la-grecia-sui-migranti-imped-e-penalizz-il-soccorso-dei/
In Diario 16 (Spain): https://diario16.com/llevan-a-estrasburgo-la-represion-de-la-ue-contra-los-barcos-que-rescatan-personas-en-el-mar/